Ir Ch and GB Ch Weisford Guilty as Sin 3CC & 1RCC
(Sire:

CH Chinnordale Cue Card 

Dam:

Sh Ch Weisford Trials and Tribulations Jun Ch

)
DOB 23/09/2020
Eyes Clear BVA

Hips 6:4
Elbows 0:0
'Cillian' wins BOB and Group 8 and Reserve Best in Show at Swords All Breed Championship Show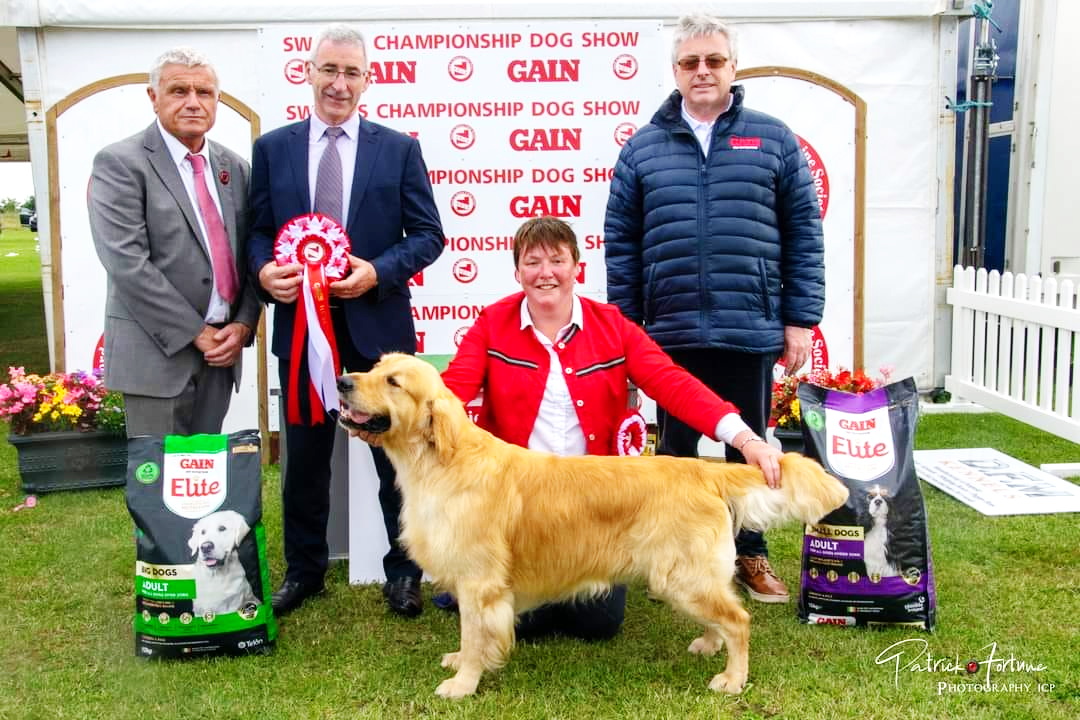 'Cillian' Wins BOB at Crufts and his 3rd CC
CRUFTS 2023 made Dreams come true for myself and Cillian IrCh & GB SH CH Weisford Guilty as Sin CW22 CJW22 Cen Winner 22 winning the DCC and then BOB.
This is Cillian's third CC so subject to KC Confirmation he is now a UK Champion. This is my first CC at Crufts and my first UK Champion, so emotions were running very high. Cillian and I have had an amazing time over the past two years and it cumulated in going Best of Breed at Crufts and having the honor to represent our wonderful breed in the Group Ring.
I have many people to thank who made this possible.  Lindsey and Roy Maynard for allowing me to use Boris,  GB CH Chinnordale Cue Card. I will be forever grateful.
To the Judges who awarded him his CC's – Ms Mandy Macdonald; Mrs Sue Pounds Longhurst and Mrs Lynn Kipps .
To Mrs Carol Henry, Mrs Anne Falconer and Mrs Freda Morriss-Gargett for his RCC's.
To John Savage and Anne Ennis who have supported me from the very beginning as a young child who had a passion to show her dogs and who now look after my dogs to allow me attend the shows. To Orlagh Murray who has shared in every step of Cillian's Journey and has on occasions taken him to shows I couldn't attend.
To Pat and Bill Wheel who entrusted me with Caoimhe, "Riverdance Spring Azalea" all those years ago, who started this line.  I also have to say a huge thanks to  Joanne Gerhold and Margaret who have always had a space for us and kept an eye on the dogs for us. We have really enjoyed your company.  To all in the UK and Ireland who have made us so welcome and cheered us on at the shows,  your support has made a difference, we have had the most wonderful time.  To you all THANK YOU!

Lynn Kipps Critique:
Well, this boy had to be my 'Bestest'. No matter when I looked at him, he still had everything in the right place. He just walked into his perfect stance. 'Simple as that!' A picture of balance, moderation, power and beauty. I'm not writing what the standard says he should look like ……… because he does. He and his owner never stopped smiling. This dog's attitude is a glowing example of: "Having the desire to please his owner". 
His fantastic construction powered him round the ring smoothly, elegantly, powerfully. He never put a foot wrong so for me, so he had to win this class, be my Best Dog and in agreement with my co-judge Ray Strudwick be Best of Breed. In the Group he was a great representative of our breed.

Cillian having just won DCC, BIS with his Dad Boris

Cillian at 20 months



Cillian at the Joint Retriever Club Championship Show winning the CC


Cillian, Weisford Guilty as Sin was 1st Junior Dog at Crufts 2022 under
breed specialist Mrs Liz Keene (Shinehill)
'Cillian' Wins his 2nd CC and BIS
Fantastic Day was had at Midland Counties Golden Retriever Club Show.
Cillian,  ShCh Weisford Guilty as Sin CW22 CJW22 Cen 22 (GB CH Chinnordale Cue Card JW x SH CH Weisford Trials and Tribulations Jun Ch)
won his 2nd CC and BIS. Lovely to be in the lineup with his gorgeous Dad Borris Huge thanks to our Judges today.
Mrs Sue Pounds Longhurst and Ms Kim Ellis for thinking so highly of Cillian
(SEE JUDGE'S CRITIQUE)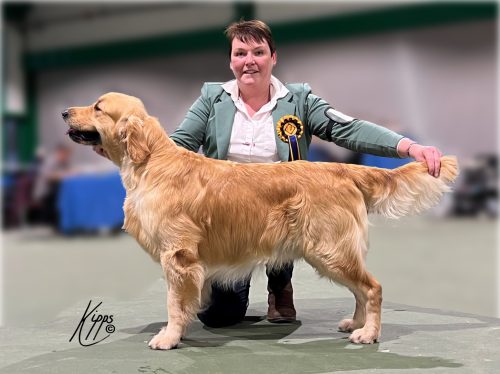 Icing on the cake was my best friend and travelling companion Orlagh Murray who won Bitch CC and RBIS with
Croiagh.
The fact that we missed our ferry that night didn't seem to matter!!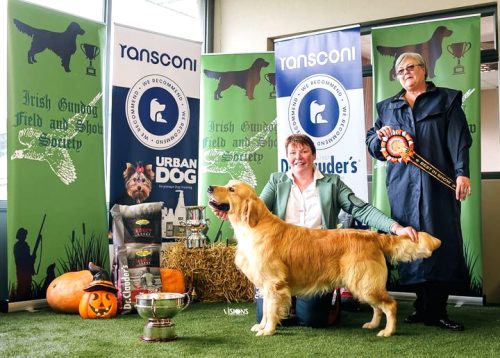 Today was a day of dreams at Irish Gundog Show and Field Society of Ireland.  We have another new SH CH in Weisford Guilty as Sin CW22 CJW22 "Cillian" Sh Ch Weisford Guilty as Sin CW22 CJW22 (GB CH Chinnordale Cue Card JW X SH CH Weisford Trials and Tribulations Jun Ch) won Green Star Dog, Best of Breed, Group 8 and finished his day winning Best in Show. His sister "Bronagh" Weisford Presumed Innocent (GB CH Chinnordale Cue Card JW x SH CH Weisford Trials and Tribulations Jun Ch)
August 2022 Welcome to another Weisford Champion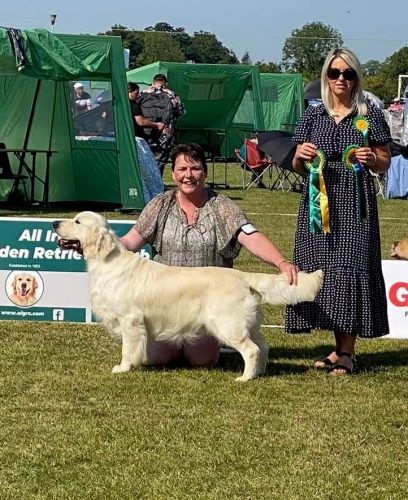 CH Rathcloon Cookie Crumble at Weisford Jun Ch (subject to IKC approval)
(GB SH CH Flyngalee Alonso x SH CH Rathcloon Peaches n Cream Jun Ch)
"At the AIGRC 2022 Championship breed show, Tadhgh, Rathcloon Cookie Crumble at Weisford Jun Ch
won his 7th Green Star and Reserve BIS. Thanks so much to our Judge today Linsey Dunbar (Linirgor).
Tadhgh has his Working Certificate so now Subject to IKC Approval he has attained his Champion Status.
Tadhgh then went on to win the Reserve Green Star at the Retriever Speciality show under Mrs Maudie Burke.
So very proud of this boy and all that he has achieved to date"  (August 13th 2022)
Pedigree