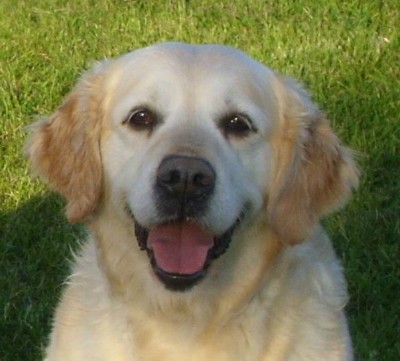 Riverdance Spring Azalea at Weisford

Sire:
GB SH CH Amberland Ajax JW
Dam: Riverdance String Quintet

30.04.02 – 27.03.10
Hip Score 8:6 Eyes Clear


Caoimhe
Caoimhe is now running free, after a prolonged fight where we tried to maintain the quality of life that she was accustomed to, Caoimhe lost her battle in March of 2010 at the young age of 7 years.  She is greatly missed here at Weisford, the house is very quiet without her, Caoimhe was full of personality and enjoyed a chat with you especially in the mornings.  I am very fortunate to have three of Caoimhe's children here with me and she has passed on her wonderful temperament and mischievous ways to them.  Caoimhe was my one in a million.  Thanks to Bill and Pat Wheel for allowing me to have such a wonderful girl.
Caoimhe was the foundation bitch of my kennel, she was bred in Kerry in the Riverdance Kennel. She had a super temperament and although quiet and placid she was top dog at Weisford. She retired early from the show ring and enjoyed the peace and comfort of home – stretched out in front of the sofa or lazing around the patio in the sun. Caoimhe has given me two great litters and remains the best brood bitch that I have owned, being a very loving and proud mother. She is the winner of 2 Reserve Green Stars
Pedigree of " Riverdance Spring Azalea at Weisford"

Parents

GrandParents

GreatGrandParents

SIRE


GB SH CH Amberland Ajax



Muskan Miss Elite

Mindaro Nawlins Jazz

Amberland Asti

DAM

Riverdance String Quintet

Shinehill Party Politics at Riverdance

Shinehill Kings Ransom

Shinehill Nikita

Kidston Weeping Willow At Riverdance

GB CH Purbarn Xtra Thunderstorm

Kidston Aphrodite